About
University City Farmers Market is located along the lake at The Shoppes at University Place. This is the only farmers market in University City serving up local produce and food preparation programs for the community – including farmers, food artisans, and select local crafters.
Our farmers use organic practices to help steward the earth, while producing some of the freshest and most nutritious food available in North Carolina. Visit us to shop for veggies and fruits, pasture-raised eggs and meats, as well as artisanal food, wellness products, and other curated items.
Music
Music and shopping have a long history that we plan to continue by showcasing a variety of local bands and DJs.
Live music on the lawn: 10:00am – 1:00pm
Easily accessible – not matter how you access!
We encourage shoppers to access the market by riding the LYNX Light Rail, walking or biking on the Barton Creek Greenway.
Coming by car?
Park for free at The Shoppes at University Place, 8929 JM Keynes Drive.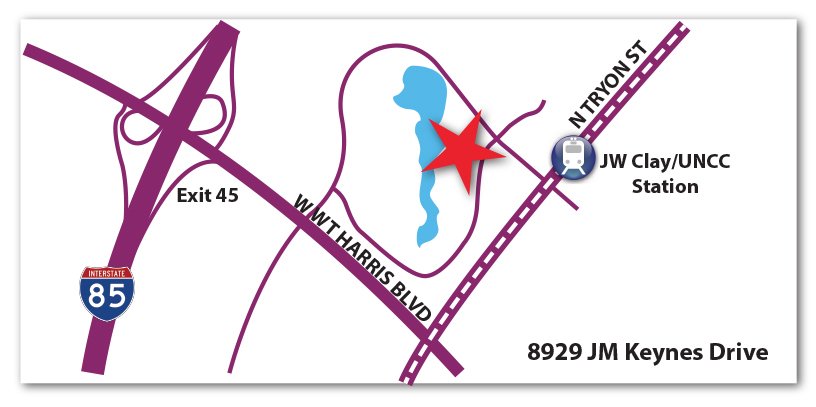 Find out who will be at our farmers market each week .. and what they'll be selling. Sign up for ourUniversity City Farmers Market Newsletter!
Anda's Bakes LLC
Mini cookies with vegan and Keto options.
Baked By Jamese
Cookies, decorated cookies, cakes, and pies.
The Coffee Tin
Specialty coffee drinks.
Cooking With Ms Princess
Variety of homemade jams (strawberry, blueberry, mixed berry, keto friendly strawberry, cinnamon pear, apple pie, grape jelly).
Defiant Sauce Co
BBQ and hot sauce.
Detour Coffeebar
Mobile coffee truck. Full espresso bar, non-coffee beverages and pastries
Drip Joint
We are a mobile espresso bar. We feature locally roasted coffee drinks as well as coffee complements like drinks (aguas frescas) chocolate, pastries, teas and breakfast items. we have a permanent location uptown at 200 S. Tryon with the center city.
The Farm at Dover Vineyards
We offer a large variety of locally grown and produced farm products in one convenient location! We have everything from Honey, to Jams and Jellies, to Mushrooms, to cookbooks that will explain how to healthfully prepare it all!
Gather Ye Honey
Pure, raw, remarkable honey from West Charlotte and the Appalachian Mountains. Honey is harvested in small-batches in order to showcase the unique characteristics that are determined by the seasonal flora in each locale. Beeswax candles, lip balm, and lotion bars also available.
JHAVA
Local CBD honey and CBD products made right here in Charlotte. Local plants in decorated glasses. Creating peace, spreading kindness and love.
Manolo's Bakery
Delicious assorted sweet and savory baked goods from Charlotte's first Latino bakery!
Ocio Cafe
Authentic gourmet Colombian coffee from our Golden Coffee Bus. Bringing culture using coffee as the vehicle, literally!
Pine Knot Farms
A certified organic farm located twelve miles north of Hillsborough, NC, and is 100 years old this year! Stanley Hughes is a third generation African-American farmer known as one of the first in the state to grow certified organic tobacco. He is also known as a progressive farmer, one who has recovered from changes in the tobacco industry and stood up to competition from corporate farms. We sell organic tobacco to the Santa Fe Natural Tobacco Company in Oxford; pasture raise hogs and chickens, and grow organic produce.
Sweet Bite Cupcake
We are a family business, recently arrived at Matthews. We create delicious cakes with artisanal flavors. We have a great variety of flavors in cupcakes that fall in love with their presentation. We want a space where we can show what we do and have the opportunity to reach more and more people.
Urban Honey
We make artisan treats with soul and with love as sweet as honey! We also make treats that are plant based but still give love to the palette
Products we offer: chocolate covered strawberries (vegan option avail); chocolate pretzels (vegan option available); mendiants (vegan option available); cheesecakes; chai latte (vegan option available); and much more! We plan to expand into our other items later this year.
Zolingo's Spice for Life
Spice Blends, skincare, CBD products
Be the Best
Children book author and small group fitness. Sells books as well as reading circle for children or anyone willing to listen.
EthnicByAli
Ethnic attire, shea butter, sage herbs in scents
Honeyed Co
Hand poured wooden wick candles and wax melts. Each candle is made from a soy blend wax with safe home fragrances. 100% phthalate free.
Hope Sotillo
Hot Sauce, Body oils, Home oil, jewelry
Inkas Art
Dream catchers, leather bracelets, musical instruments of bamboo, wool bags, wool ponchos.
Kam's Kitchen
Dog treats and products!
Kate's TNT
Copper, dichroic glass, and enamel jewelry specializing in hair accessories and paw print jewelry.
KIKI EARRINGS
Handmade jewelry.
Nessy's Naturals
Handcrafted items for natural/non-toxic materials such as herbs, precious metals, leather, wood, etc. Items include body butters, massage candles, soaps, sprays, jewelry, and more.
Noufi's Boutique
Luxurious scarves and bohemian style linen collection of clothing.
Pink Daisy Candle Body Company
A non-toxic line of candles and body skincare products. Candles, body whips, body butters, bath soaks and lip balms.
Pretty Maquillage
Pretty Maquillage sells high quality vegan lip gloss, lip scrubs, and mascara. Our products are highly pigmented and show up nicely on lips of all shades.
Rare Radiance
Soy candles, massage candles, candle wax melts, and natural blended loose-leaf teas products are hand crafted and hand-blended
Rose Bows
Handmade bows, bowties, accessories, and vintage clothing.
Scent Slave Bath and Body, LLC
Handmade natural soaps, body wash, bathbombs, concrete candle vessels. Soaps are formulated by me with skin health being our priority. Artisans soaps, and natural skin care products.
She Built This City
Will be doing kids activity – small build/crafts.
Stinky Ass Soap Co.
Soaping for a cause. We make handmade soaps, lotion candles, body butters, dog shampoo and more! We donate a portion of our sales to the Boston Terrier Rescue of NC.
Suds and Studs
A Veteran owned business that specializes in custom art, jewelry, health, and beauty items.
Thank You Mother Earth
I craft natural soy candles, body creams, aromatic room and linen sprays, scented lava rocks, aromatic shower mists, body oils, and more natural products.
Toushea Body Boutique
Handcrafted skincare products such as lotion, soap, body butter, lip balm, bath bombs, etc.
Vang Flowers
Fresh cut flowers.
Yarn Addict
Crocheted items, baby blankets, hats, headbands, dish cloths, scrubbies.
Vendors, are you in the market for a market?
Want to be a part of our University City Farmers Market family – or other area farmers markets? Click HERE to apply.
Vendors, please make your booth payments HERE.